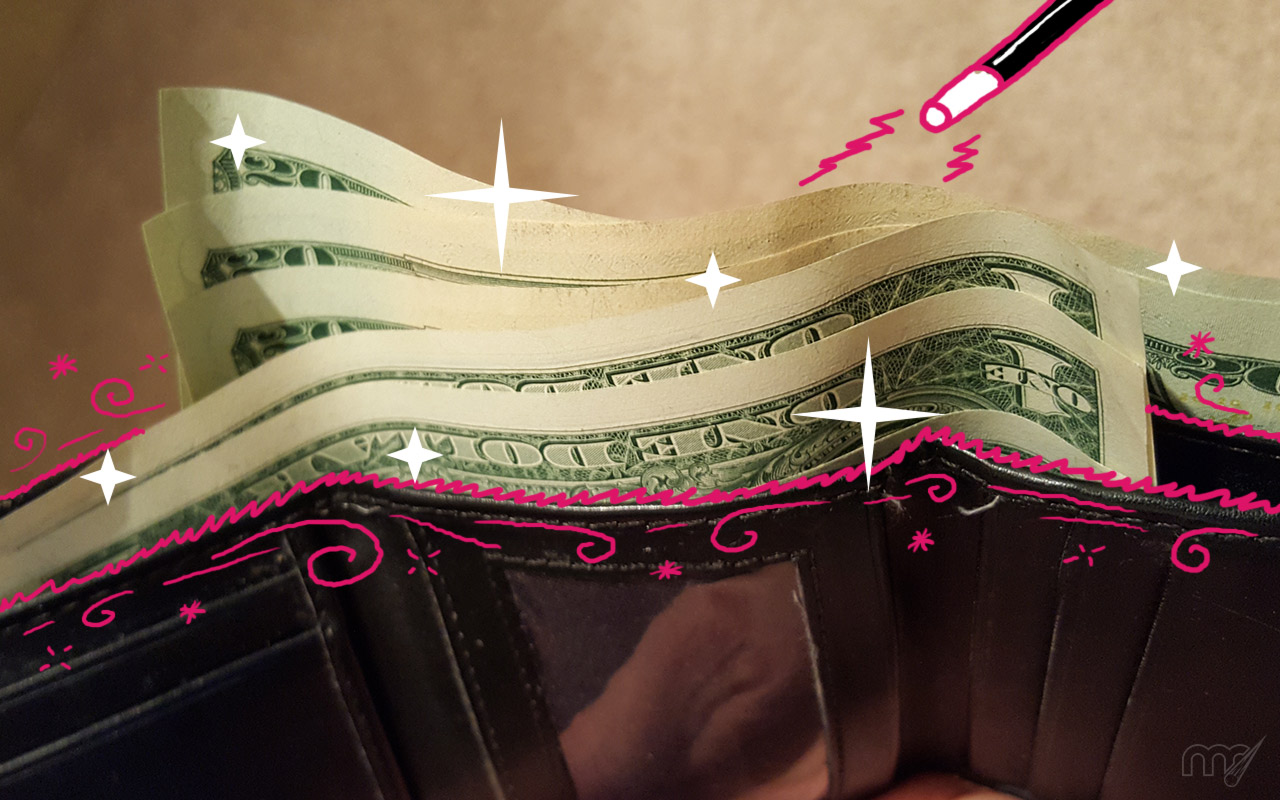 Increase your Business Network value by using your Wallet
Bookmark This Page - Press Ctrl + D on your keyboard
Create a bookmark for this page to return to when you are in need of a new resource.
In need of a great presentation or educational moment for your business networking group? Here is a fun one I prepared and delivered to my BNI chapter. The subject of the presentation is how business network value grows with the focus on building relationships and giving to other group members.
Starting this fun activity requires $37 in cash (dollar bills or notes), but costs nothing. Your fellow networkers walk away with a great understanding of their roles and the value each of them brings to the group. You get to keep your $37 and benefit from an inspired networking group, ready to take their collective networking to the next level.
What you need:
A "magic" wallet
An old, worn business card
An old $1 bill, wrinkled, torn, marked up, etc.
A new $1 bill, crisp and perfect
A new $5 bill, crisp and perfect
A new $10 bill, crisp and perfect
A new $20 bill, crisp and perfect
How it works:
Pull your "magic" wallet out of your pocket or purse and open it up to see what might be found inside. The business card and denominated bills represent the stages that each business networker goes through as part of your group or chapter.
#1

The old, worn business card
Take out the old, worn business card. It represents the new person to the networking group. A person who may or may not have any interest in joining, but is apparently there to try to get business as quickly as possible.
This person may be inexperienced with business networking and it definitely shows. A new, overzealous sales person will enter the room ready to make a sale. They won't take the time to meet with group members and will quickly take business cards to schedule meetings later.
Business networkers are used to this type of business person showing up, who can be described as a Taker. Their value will be non-existent in the minds of the group members, thus their value is represented by the old, worn business card.
Unfortunately, this is the perception where most new business networkers start. Fortunately, though, it is easy to move past this perception.
Put the business card back in the wallet.
#2

The old $1 bill
Take out the old $1 bill. Compared to the business card, the old dollar does have a value. It represents the person who has started to come to the business networking group on a regular basis, where group members are now getting familiar with this potential member.
When a new business networker shows potential, through displaying a low level of commitment by returning to the group for the next meeting, the perception shifts from being a Taker to that of a person willing to grow in value to the group members.
However, showing up to another meeting is a display of growing interest. It doesn't necessarily display a true level of commitment. That will require another step to be taken, which solidifies the new business networkers desire to be a person of value.
Becoming an official member of the networking group often takes an oath and a membership fee in order to be part of the team.
Put the old dollar back in the wallet.
#3

The new $1 bill
Take out the new $1 dollar bill. This represents a new member to the group, a person who has the growing potential of someone who may be able to use services of other members, but someone who may possibly be able to get business from other members as well.
Once a business networker is committed to participating with their fellow group members, a sigh of relief can be had. Other business networkers are now eager to know and possibly work with the new member, building relationships to know, like, and trust each other.
Just like the old $1 bill, the new $1 dollar bill has a given value, but the new bill is much more attractive to work with. Increased value does not come right away. It does take time to grow in value within the group. Once a member is in, additional value is not guaranteed. That person needs to be committed to building relationships and putting forth the effort to make it happen.
New business can only come to those who seek it, not to those who only expect it to come their way. Planting seeds of value among the membership by giving business, sharing ideas, and making connections is always a plan for success.
Put the new dollar bill back in the wallet.
#4

The new $5 bill
Take out the new $5 dollar bill. This represents a member who has used the services of the other members of the business networking group. This person shows commitment to the group and trust of other member's services. This person also meets with other members outside of the group.
After becoming an official group member and putting in the time and effort to build relationships, a business networker is now achieving a new level of value. By becoming a customer to their fellow members, a business networker displays their appreciation and trust for the group.
To those fellow members, it shows that the business networker is willing to give. By doing business within the networking group, members are able to grow accustomed to each other's products and services, which helps with creating business referrals.
Outside of the group meetings, the business networker continues conversations with other members. For all intents and purposes, this individual is your average business networker.
Put the $5 bill back in the wallet.
#5

The new $10 bill
Take out the new $10 bill. This represents the a business networker who uses many services of members in the group. This person has been a member of the group for a longer period, is no longer considered "new", and receives referrals from other group members. This person also shares business referrals among the group members.
Going beyond the average business networker is the person who can share and refer the business of others with ease. I consider this to be a the first level of a true business networker.
When a member becomes so engaged with their fellow members, they are able to identify new business prospects and create new connections for themselves and everyone else in a networking group. This level of networking comes from years of relationship growth, learning how to do business with others, and listening for opportunities that may not be their own.
This person is also great at nurturing new business networkers and members of their group. They are often identified as a leader in the group and someone sought after for assistance and relied on by average members to make the group prosper.
Put the $10 bill back in the wallet.
#6

The new $20 bill
Now, take out the new $20 bill. This represents the ultimate business networker. Not only does this person have the value of an avid networker, but this person also attracts others into business networking, to the group, and inspires others to become more valuable business networkers.
It is hard to imagine this type of business networker unless you've had the opportunity to meet one. This person is not only confident with who they are in business, but also how they influence those around them to become better business people.
You can identify this person by how much they inspire your business networking group to do more. This person will also be an incredibly giving person, by strategy or by nature, and will work hard to improve everyone around them. The business networking group they are associated with will see an active membership, as well as a growing number of members and business being passed and referred.
In addition, this person will be very active in supporting their fellow members. The best kind of business networking superstar will put the priorities of the chapter before their own, making sure that all members are benefiting from the collective performance. In BNI, the philosophy we follow is our motto, "Giver's Gain" - which is the essence of the business networking superstar.
If you are fortunate enough to be in a networking group with this type of business networker, find a way to become a value to them. In time, by continuing to providing your unique value to your members, attracting new members, and guiding others, you will become a business networking superstar as well.
You can put away the $20 bill and close your wallet.
What just happened to everyone listening
Upon listening to your presentation with the "magic" wallet, business card, and dollar bills, your fellow business networking group members will begin to assign themselves to a dollar of some amount. They will also identify other members with dollar values, including you.
Together, your group has a figurative total dollar value. Each member may value other members differently, but the total collective value of each member is what truly matters. Is your group worth $100, $500, $1,000? How much is each member valued, $1, $5, $10?
Whatever your individual values or group values may be, you now have a starting point. Knowing where you are is the first step is knowing where you are going.
Always build on the value
From this point on, it is up to you and all members to motivate themselves and inspire the membership to increase that dollar amount and bring value to the group as a whole. It is hard to be a $10 among $1's and way more fun to be a $20 among $10's, but you have to be willing to put in the effort to get there.
---
What is your value in your business networking group?
Leave your answer and feedback in the comments section below.